'Holy Grail 2.0' technology to better sort post-consumer waste recently took a major step forward towards mass adoption thanks to a AIM brand-led consortium of 85 companies and organisations – including CEFLEX and many of its stakeholders.
"We need to scale and implement this technology fast" said CEFLEX coordinator Graham Houlder, welcoming the new phase of progress. "Whilst there are other contenders, Holy Grail technology adds no chemicals to the packaging materials, is relatively cheap to implement and has a raft of other side benefits such as allowing consumers to scan the pack and see how to dispose of it".
Digital watermarks and the 'Holy Grail' project have been actively monitored and supported by CEFLEX for some time as part of the organisations work to scope, assess interest and engage to help accelerate market implementation of highly promising and game-changing technologies. They are imperceptible codes, the size of a postage stamp, covering the surface of a consumer goods packaging which accurately identify packaging to deliver more efficient and higher-quality recycling.
The technology can provide a significant improvement in sorted bale quality for recyclers as in addition to the main polymer, it should ultimately be possible to specify exactly what is in the bale other than the main polymer type; such as levels of additives, other materials, inks etc.
Holy Grail also helps provide a highly functional way to sort and recycle multi-material flexible packaging unable to be redesigned as a recyclable mono-material, and other packs for which the volumes of materials are still too small to warrant their 'own stream' but have significant scale if several country outputs can be combined.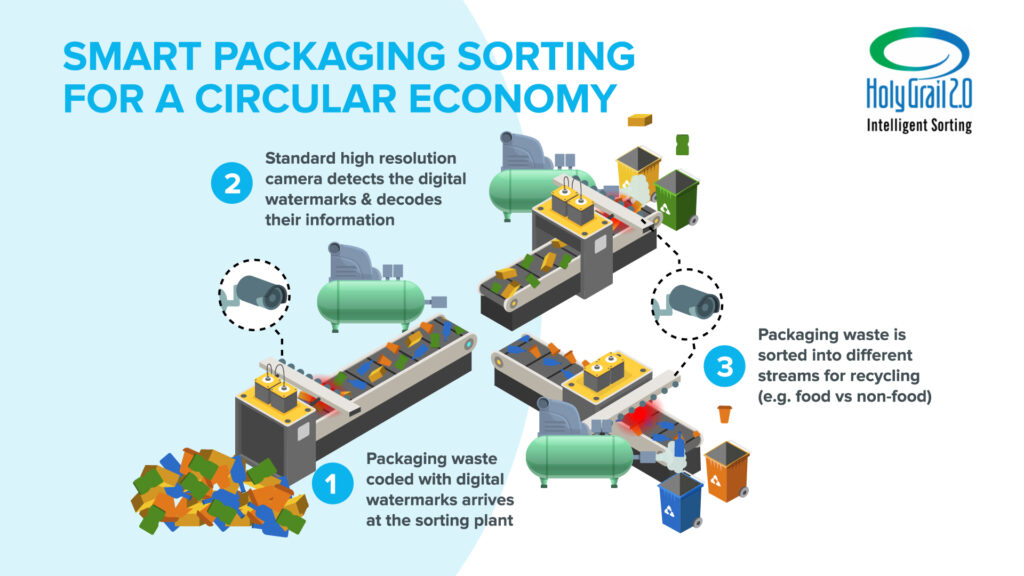 The full consortium as of 7 September 2020 are:
AB INBEV • ALL4LABELS • ALPLA • AMCOR • APK • ARBURG • ARLA FOODS • AVERY DENNISON • BEIERSDORF • BERRY GLOBAL • BOREALIS • BRASKEM • CEFLEX • CITEO • THE CITY OF COPENHAGEN • THE COCA-COLA COMPANY • COLGATE PALMOLIVE • CONSTANTIA FLEXIBLES • DAGSAM • DANONE • DANSK RETURSYSTEM • DIGIMARC • DM DROGERIE MARKT • DOW • DR. OETKER • ELIF HOLDING • ELOPAK • ESSITY • EXPRA • FILIGRADE • FINAT • FOBOHA • GENERAL MILLS • GHENT UNIVERSITY • GIZEH VERPACKUNGEN • GREINER PACKAGING • GS1 IN EUROPE • HENKEL • HL REPRO • HTP • INTERMAT FLEXIBLE PACKAGING • IPL • ITC PACKAGING • JABIL PACKAGING SOLUTIONS • JANOSCHKA • JOHNSON & JOHNSON • JOKEY • KELLOGG • KELLPO • KIEFEL PACKAGING • KLÖCKNER PENTAPLAST • THE KRAFT HEINZ COMPANY • LOGOPLASTE • L'OREAL • MIKO PAC • MONDELĒZ INTERNATIONAL • MONDI • MULTI-COLOR CORPORATION / VERSTRAETE • NESTLÉ • ORKLA • PAC WORLDWIDE • PACCOR • PELLENC • PEPSICO • PLASTICS RECYCLERS EUROPE • PLUS PACK • PÖPPELMANN • PROCTER & GAMBLE • RECLAY GROUP • REIFENHAUSER GROUP • REWE GROUP • ROSSMANN • SAUERESSIG • SCHAWK! JUELICH • SICK • SIEGWERK • SLEEVER INTERNATIONAL • SPIES KUNSTSTOFFE • STORA ENSO • SUEZ • SULAYR GLOBAL SERVICE • TETRA PAK • TOMRA • UNILEVER • VANDEMOORTELE • VEOLIA • VERPA • VIAPPIANI PRINTING • WIPAK • WRAP