Interpack 2017: APK plans to build innovative plastic recycling plants in Asia and Europe
APK plans to set up recycling plants by 2025 together with strategic partners in Europe and South-East Asia in order to strengthen plastics recycling and to reduce global land pollution and marine litter.
According to a study by the Ellen MacArthur Foundation earlier this year, world-wide plastics production has reached more than 300 million tons per year and is still increasing. Roughly 78 million tons per year are consumed in single-use packaging, much of which ends up in incineration or landfills, or even worse, in the oceans of our planet.
Less than 17% of all plastic waste is currently recycled worldwide – this low number is due to a lack of efficient collection and sorting systems as well as a lack of advanced recycling technology in some regions.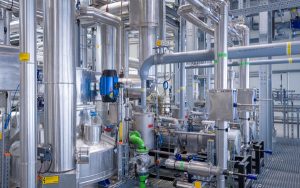 APK has developed a breakthrough technology that can be applied to a broad variety of plastic types and combinations commonly used in packaging, even difficult ones including multi-layer films. The technology exploits physical and chemical properties of different polymer types in order to separate these efficiently, resulting in high-purity single-polymer streams.
CEO Klaus Wohnig explained at the Interpack fair 2017 why it is important to set up plants both in Europe and in Asia: "In Germany we have developed an advanced and economically interesting recycling technology to recover virgin-quality polymers from plastic-packaging waste. We call it Newcycling®. We now want to expand in Europe while simultaneously bringing our technology to the region where the problem is acute: South-East Asia. Of course, we are open to further co-operations with interested industry partners in order to change the plastics economy from linear to truly circular as soon as possible. This challenge is a very substantial."
About APK
APK Aluminium und Kunststoffe AG was founded in 2008 and has a 57.000 m² plant near Leipzig, Germany.  APK has expertise and patented technology in both mechanical and physical-chemical recycling of a variety of feedstocks.  APK is owned by the Munich based financial investors MIG Fonds and AT Newtec, an investment company of family office Struengmann.
CONTACT:
APK Aluminium und Kunststoffe AG
Julia Wunder & Katerina Birkholz
Beunaer Straße 2
D-06217 Merseburg
Phone:       +49 3461 794 570
Fax:           +49 3461 794 5729
E-Mail:      julia.wunder@apk-ag.de and katerina.birkholz@apk-ag.de
www.apk-ag.de