CEFLEX 'Quality Recycling Process' task team develop mono-material duplex laminated pouches using PP recyclates.
To help boost recycling rates and expand sustainable end markets, a team of CEFLEX stakeholders have developed a Quality Recycling Process (QRP).
Its principal objectives are to increase volume, quality and value: delivering recycled flexible packaging materials to meet a wider range of end-market demand; and improve sorting and recycling, regardless of pathway.
The approach enables high-quality recycled PE and PP suitable for non-food contact film applications such as pouches, shrink films and labels – serving end market applications not currently using recycled materials from household collected flexible packaging.
Five semi-industrial trials to harness new possibilities from existing, widespread, technology have resulted in result, several CEFLEX stakeholder collaborations to produce pouches, shrink films and labels using PE and PP recyclates. In addition, plans to develop a next-generation waste processing plant based on QRP are moving ahead, with a commercial launch slated for end 2023.
In the latest of these, BOBST and partners have taken part in a trial to develop CEFLEX stand-up pouches.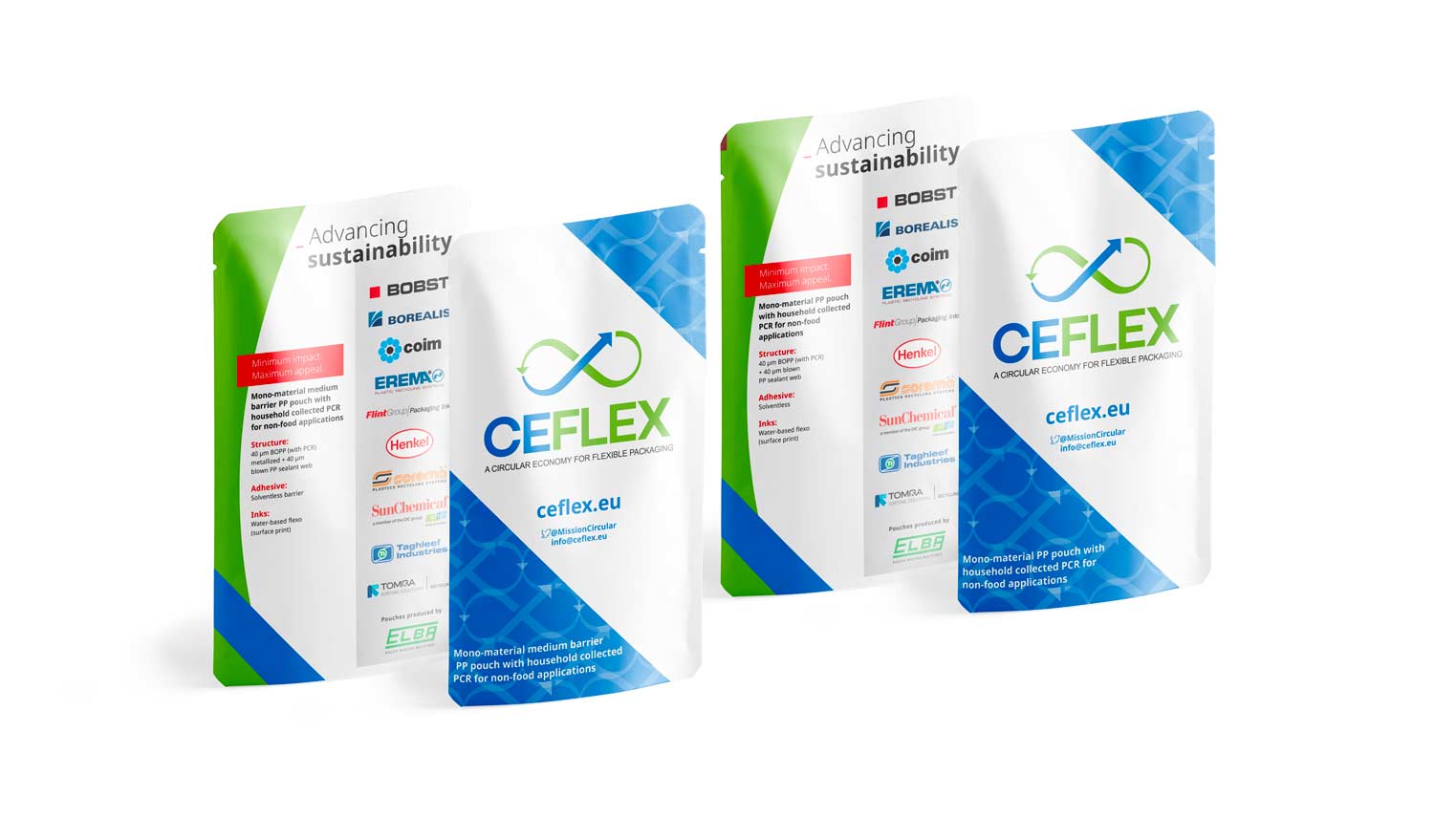 The coating, laminating, printing, and vacuum metallisation steps were carried out in its Competence Centers in Italy, Germany, and the UK. Other partners in the pouch making trials were Taghleef Industries for the rPP film, Borealis for the sealant film, Coim, Henkel and Sun Chemical for the adhesives, Flint Group for the inks, and Elba for pouch making.
Two full PP-based solutions, using films made from rPP resins from the CEFLEX QPR trials were produced and tested using different consumables.
Commenting on the outcome of the pouch making trials, Dana Mosora, Workstream Manager at CEFLEX, said:
"The QRP project is about pushing the boundaries on what is possible with rPP and recycling. The successful outcome of the pouch making trials is a further demonstration that a much greater percentage of flexible packaging waste can be returned to the economy and reach a wider range of end-market segments for non-contact food applications."
Consult the full technical details of the two pouches and read more on the BOBST blog.