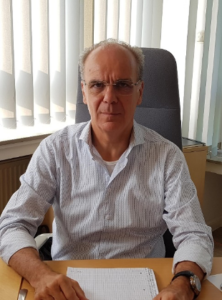 CEFLEX Sustainable End Markets workstream is planning industrial scale trials delivering higher-value end market applications for flexible packaging. This work is building the business case for investment and delivery of a Quality Recycling Process, able to unlock the environmental and economic potential of mechanical recycling.
In this series of interviews, we speak with CEFLEX stakeholders leading this transformation.
Dr Michael Langen, is Managing Director of HTP Engineers, and a publicly appointed expert in plants and machinery for waste recycling and waste disposal by the German Chamber of Engineers. We spoke to him about practice and prospects for the future in a circular economy.
What should be done to increase the amount of polyethylene (PE) and polypropylene (PP) put on the market as flexible packaging? 
A viable strategy to make flexible packaging easier to recycle is to internalise operational costs along the recycling value chain and to reflect these costs to the consumer. Basically, this is one of the key founding principles of EPR schemes. Any measure to get easier to recycle material structures like mono-PE and mono-PP is to:
Modulate EPR fees according to a scaled recyclability and
Assess the recyclability by standardised procedures.
As a founding partner of the CHI cyclos-HTP institute, we have been one of the first expert organisations to elaborate and implement a fully transparent assessment procedure for post-consumer packaging – based on scientific principles as well as hands-on experiences in recycling operations. That was back in 2011-2012 and, since then, the CHI standard has become widely accepted in the industry, particularly with CEFLEX stakeholders in the flexible packaging market.
Modulating fees according to the recyclability of packaging is both ecologically and economically beneficial. Ecological indicators are, for example, the use of primary resources like energy and raw materials. Economic indicators include the minimisation of residues, improved product qualities and sales prices for recyclates.
However, there is a major obstacle in getting more mono-PE and mono-PP recycled: the lack of recycling capacities in Europe, in particular with respect to flexible mono-PE and mono-PP. While the past years have seen major investments in sorting capacities, investments in recycling capacities are still well behind market demands. Germany alone needs an additional capacity of min. 350.000 tonnes/year which cannot be compensated by exports sustainably.
HTP Engineers has designed and developed numerous projects in sorting and recycling technologies and is well familiar with procedures and risks. The risk profile of an investment in recycling technologies is fundamentally different from one in sorting technologies. The risk profile of recycling technologies is well suited for a consortium of material or packaging producers and brand owners. A traditional waste management company has less strategic interest and market knowledge in the flexible packaging market and is more often than not reluctant to invest beyond sorting technologies.
How do you see existing technologies play a role in making the shift from today's volume-based recycling into tomorrow's value creating via quality recycling? 
Technologies play a key role in the implementation of a sustainable recycling strategy. HTP strongly emphasize the need for a dual strategy, volume-based plus quality-based recycling. Whereas volume-based strategies are indispensable to meet ambitious volume related targets, quality-based strategies are key to drive circularity to a level where closed loops get feasible.
Technologies play a role as enabler of both volume- and quality-based recycling. Presently, it is more often than not a question of economic viability whether a technology is implemented or not. Sophisticated recycling technologies are well developed technically and ready to be implemented on industrial scale. There are several examples, such as hot-washing, colour/polymer-flake sorting, solvent-based processes or de-odorisation processes.
Now, the implementation of existing technologies rises operational cost and the rise needs to be covered by a premium on sales prices. Production cost of recycled polymers are intrinsically higher than production cost of virgin polymers. Recycled polymers carry the cost of collection, sorting and washing whereas virgin polymers are to some extend a by-product of Petro-chemical processes. As a consequence, recycled polymers will not be able to compete with virgin polymers on a level playing field unless the end-of-life cost are internalized and considered appropriately.
HTP Engineers develops investment projects in recycling technology with a design flexibility that enables to go for both routes, volume-based and quality-based recycling. Characteristically, a recycling project reflects on a certain range of input and output qualities. Thus, adaptations to market fluctuations are possible. Further options are technological expansions and retrofits of existing recycling lines.
Can we sort out recycled polypropylene from flexible plastic waste? 
Yes, fully automatic sorting of polypropylene can be done by optical, near-infrared-based sorting machines. These types of machines are well established in sorting facilities to separate rigid polymers like bottles, canisters, pots, tubs and trays. Since about three years, the feeding and separation units of these machines can process flexible plastic packaging. First applications were done in PE-film sorting, particularly larger sizes like > 240 mm. Nowadays, even smaller sizes down to 50mm can be sorted efficiently and beside PE-film sorting even PP-film can be identified and separated efficiently.
The design of sorting facilities needs to consider the total range of polymers in the input and the aspiration to maximise the yield of recyclable bales in the output. The answer to whether or not PP-film is separated into a mono-stream in a given sorting facility, regardless of a new investment or a retrofitted facility is a very specific one. Aspects to be considered include. the national EPR-framework, input composition, local trade routes and the technical base of a given sorting facility.
HTP engineers develops investment projects in sorting technology with a design flexibility that enables to adapt to a change in the EPR- and market framework, like with the design principle in recycling projects.