A panel of international experts joined CEFLEX on 23 March 2023 to explore how EPR can best shape and drive material circularity around the world – with a focus on the 'global south'. The purpose, to identify key developments, better understand perspectives from the informal waste sector, government and more for flexibles ahead of the next round of UNEP intergovernmental negotiations on a Global Treaty to End Plastics Pollution.
Part 1: Trends and challenges for EPR in the Global South
In a circular economy, all materials – including flexible packaging – need to be captured, recycled and used in a wide range of sustainable end markets. Extended Producer Responsibility (EPR) schemes play a substantial role in the collection, sorting and recycling of post-consumer products and are well positioned to be a key enabler and coordinator of material circularity.
In Europe, the CEFLEX 'Criteria for Circularity' have been developed as a constructive and practical check list for EPR schemes and stakeholders to work through on their journey to making packaging waste materials circular. But what about elsewhere, and in the 'Global South' in particular?
A patchwork of approaches and a defining informal sector
Well, just as in Europe, no single EPR scheme is the same. Specificities in the Global South are driven by a range of approaches and constraints in applying legislation; a significant gap in infrastructure and finance; and a high number of informal actors.
Moderator Derek Stephenson of Strategy Matters played a leading role in outlining some of the tensions, trends and challenges shaping developments: "There are significant challenges today in trying to integrate EPR and the informal sector, which give quite different operating conditions".
"We have national policies which try to incorporate informal recyclers, but we've got mayors and local governments who may have a different view. We also have informal sectors and waste management companies and recycling industries that sometimes see each other as competitors."
"Meanwhile, new requirements for producers to audit their entire supply chain, not just their direct suppliers are driving producers' growing concerns about what responsibility they have for that supply chain, including recyclers both organized and not organized" he continued.
"An 'EPR 2.0', is coming fast. In the north, as well as the South. It's about collecting all the packaging from every source. Not just households, but public spaces, from litter, from industrial, commercial…everything. That's a fundamental change".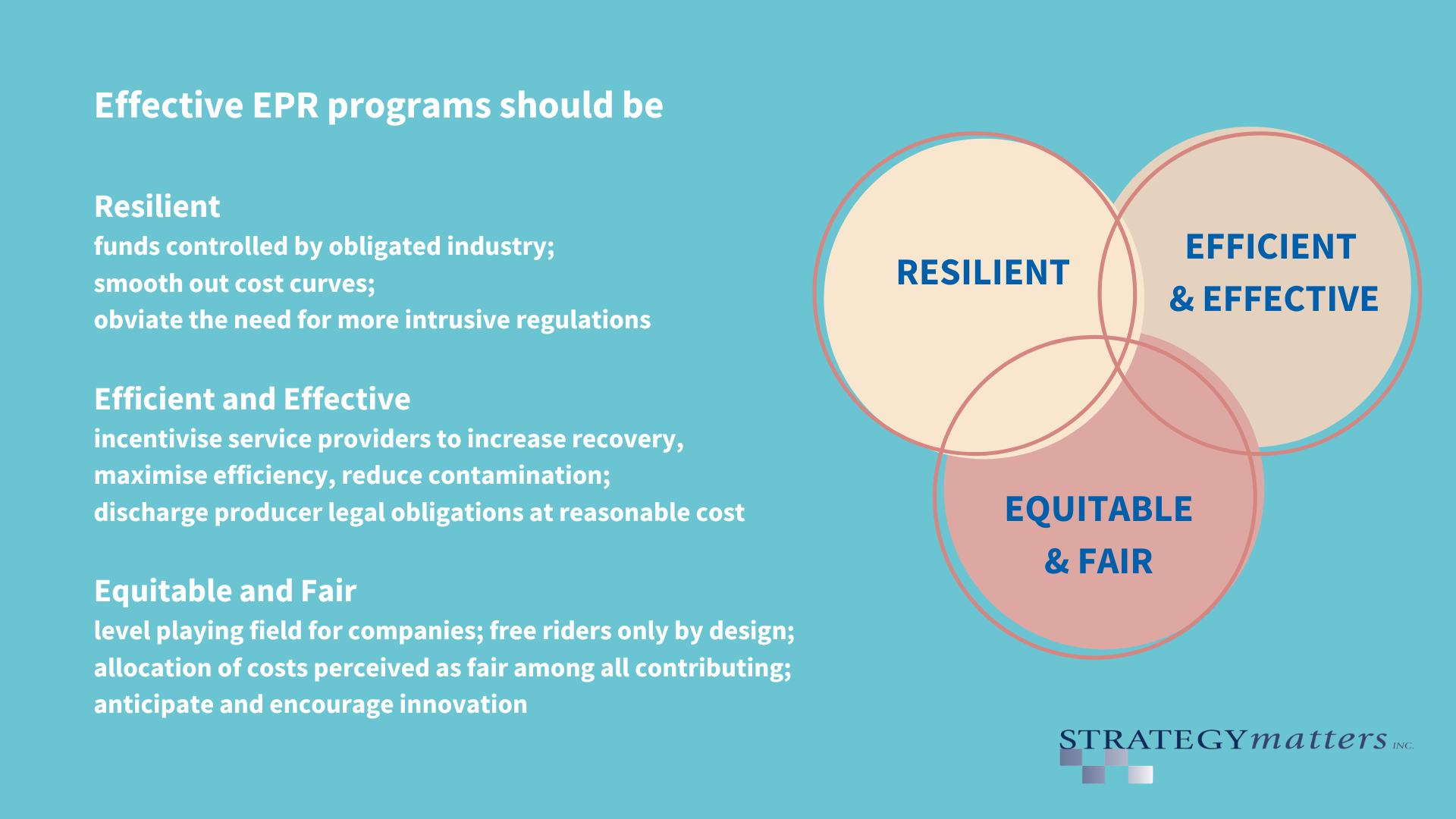 North – South Differences?
In the north, this evolution of EPR represents a transition from the early days of shared responsibility to producer designed and operated programs, with full financial and often full operational responsibility. Almost all of these are producer led with the exception of a few outliers, Russia, Hungary, and possibly soon the UK, opting for more of a tax or a government led system.
"We're seeing mature markets open up to competition among producer responsibility organizations and that energy from waste facilities are no longer an accepted management option for producers that need to go up the hierarchy – making sure material stays in circulation as high value for the longest possible time. While there's still regulatory room for chemical recycling, particularly for flexibles," said Stephenson.
Contrary to this emerging consensus, deciding on the exact form and way forward for EPR in the global south was highlighted as a barrier.
"The inter-relationship between EPR and the informal recycling sector remains largely unresolved. In part due to this, alternatives to EPR best practice models are gaining traction in the south"
In Indonesia, the world's fourth largest country, EPR was introduced in to waste management law in 2008; but the country is struggling to pin down the exact regulations and decrees to make their ambitions for waste reduction at source and high recycling rates a reality. Derek Stephenson also highlighted Thailand and Vietnam as sizable countries with explicit plans to formalise waste pickers to increase their quality of life, develop relevant policies and support ambitious waste management targets. However, they are currently facing challenges in the availability of data, detail, expertise and finance to bring them into practice in their desired timeframes.
"Many efforts to develop EPR systems in the global south need help. They are desperately short of money and expertise. There is generally no waste data tracking system, no user pay mechanism for waste, and environmental protection has generally been weak."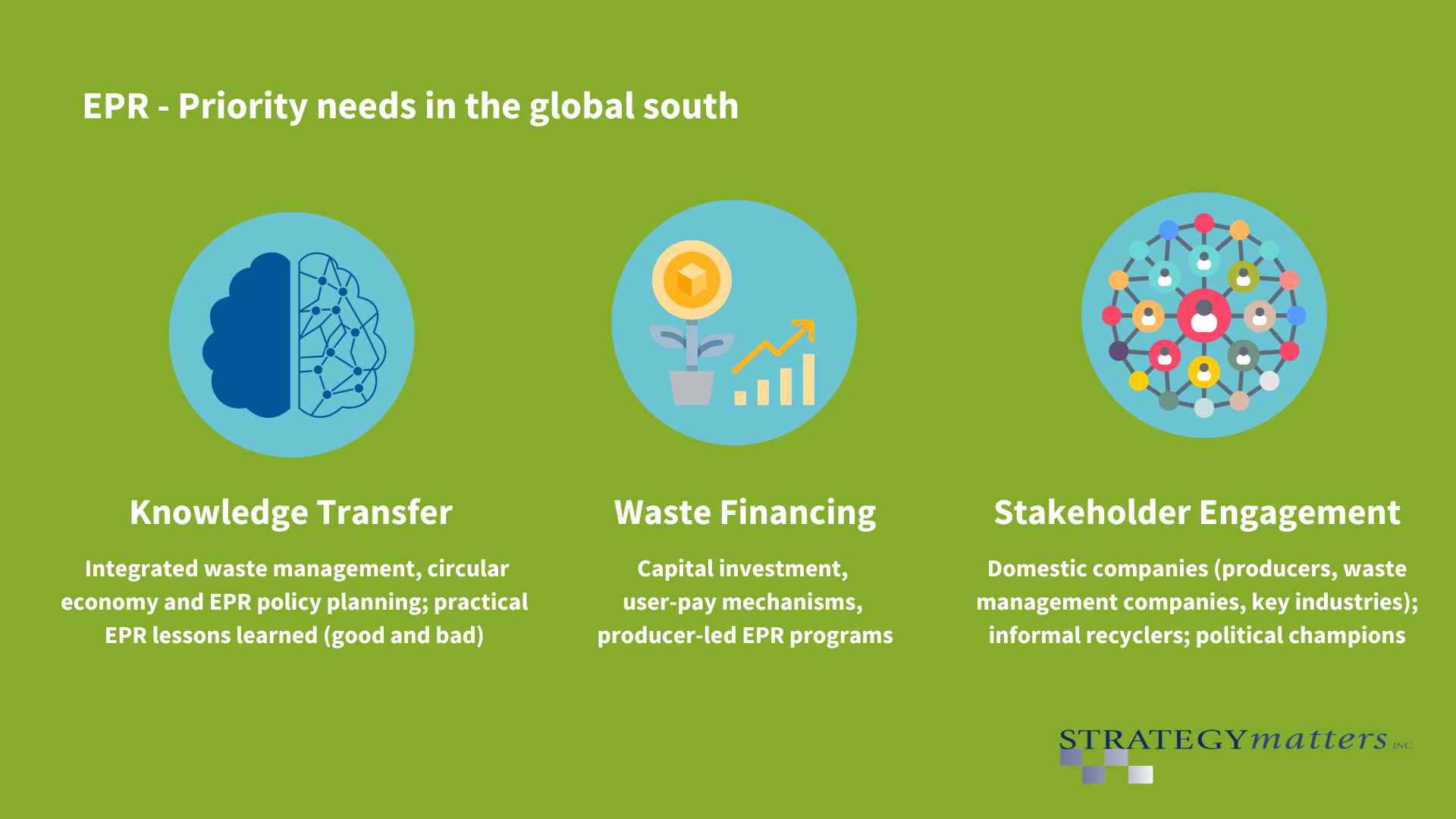 "There is a real need for fundamental waste management systems. EPR works much better within a comprehensive layer of policies related to waste management and circular economy. That's the greatest challenge that producers will face in the south – trying to help people understand that EPR is not a silver bullet for plastics recycling or plastics waste management. It's a central part, but it won't do everything".
Part 2: A deeper dive into EPR and the global south coming soon. With views from Ghana, Chile, India, a brand owner and the informal sector in more detail – with additional examples in Brazil, Mexico, Columbia and more.