Brand owners and stakeholders across the value chain are reaching into new territory to meet their ambitions and objectives. We spoke with Feliks Bezati of Mars to find out more .
"I grew up in the circular economy world," says Feliks Bezati, recounting the progression of his career.
At 37 years old, his work has spanned two continents, from Ohio to Amsterdam, and he's held positions in industries as diverse as automotive, consumer food products and the built environment. But for the last year and a half, the Greek-raised, Albanian-born and French-educated chemical engineer has taken up residence at Mars. As their global sustainable packaging manager, he works on strategy related to procurement. "It's extremely interesting to have the circular economy topic within the procurement department, for the simple reason that the circular economy is all about how we handle resources."
When a decade ago the concept was a topic most senior executives, let alone procurement managers, had little heard of, today businesses are integrating the circular economy deep into their strategies and business models. But for companies whose products typically come wrapped in flexible packaging, it's proving a particularly tough nut to crack. Helpfully, the consortium CEFLEX brings together companies across the entire flexible packaging value chain, to collaborate on this complex challenge.
"To put it simply, my job is to assess our packaging portfolio and ensure that it has the maximum chance to be recycled over the next five or 10 years," says Bezati. But for him and his team, realising a circular economy for flexibles means not just looking at the reprocessing stage. Indeed, on CEFLEX's five-step roadmap to a circular economy for flexible packaging, the first port of call is collection, followed by sorting and recycling. "If we're talking about probabilities, there are two conditions for packaging circularity – proper packaging design and a developed waste management infrastructure. As a company, we have full ownership of packaging design since we decide what we put on the market. But ensuring that each country can collect, sort, and recycle this packaging is a shared responsibility, which requires collective action from companies, governments and even citizens," he says.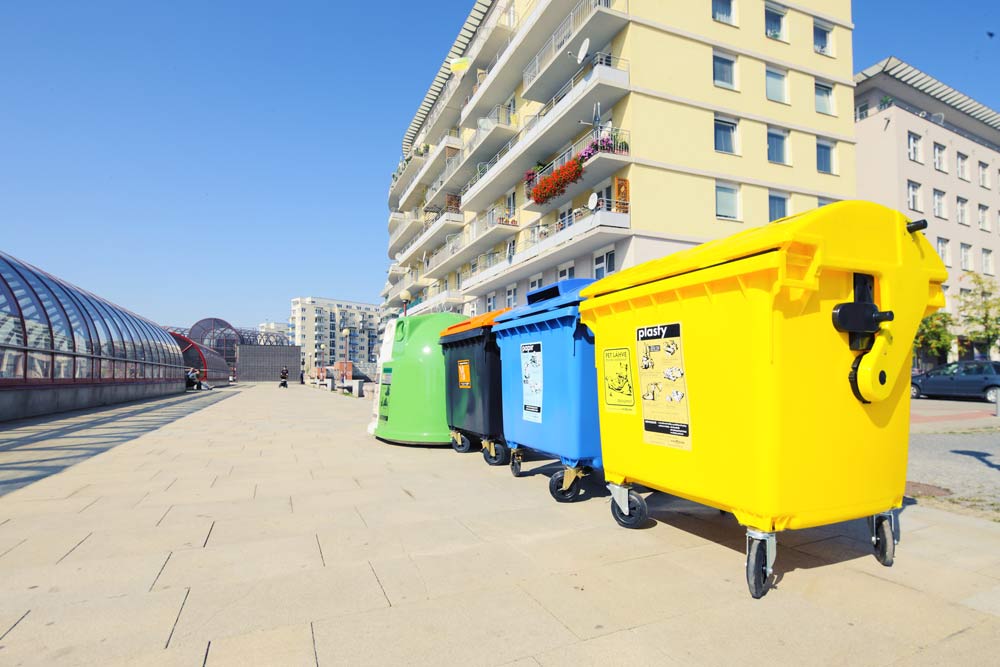 So what then, is the role of big consumer goods companies in waste management infrastructure, specifically collection?
For a start, money. "Extended producer responsibility (EPR) schemes are critical." The UK and Poland have a slightly different system, but in the rest of Europe, packaging producers pay fees that are distributed to municipalities in order to subsidise the cost of collection and sorting. "Through the fees we pay as a company, we have significant influence, albeit indirect, on collection of packaging waste and the overall development of the infrastructure," Bezati explains.
But just because a material is collected, doesn't mean it's necessarily recycled. Why? In the case of flexible packaging, there currently isn't a huge market for it. Bezati explains that EPR fees are much higher for plastics than say, metal or glass, in order to plug this gap, and that it is a bit of a chicken and egg situation. Municipalities don't necessarily want to invest in collecting and sorting flexibles if they can't shift them on. And the recycling industry doesn't want to invest in recycling infrastructure for something that's not being collected.
So where does this leave brands committed to principles of circularity? "We as brand owners just need to accept this higher cost and understand that change will take time." In the meantime, Bezati says Mars will continue to optimise its packaging portfolio in terms of circular design. This means a 25% reduction in virgin plastics and 30% recycled content in their plastic packaging by 2025.
Additionally, he believes that plans for the collection of flexible packaging need to keep progressing while recycling technology and markets sort themselves out.
"If the plan is, for example, that recycling infrastructure will be ready by 2025, then we should not wait until 2025 to start collection. We should do it now. Because it takes many years to put into place."
And what might effective collection schemes look like? CEFLEX recently released a position statement on this point, which Bezati supports. They recommend that flexible packaging be collected separately from other materials. If necessary, it can be combined with rigid plastics, metal and beverage cartons. Such a segregated system means less contamination at sorting stage. And while this is happening in parts of Europe, Bezati cites countries which have been slow on the uptake. "In the UK, paper is often collected together with plastics. This is not an optimised way to collect and sort flexibles, or paper for that matter, so the infrastructure needs to be upgraded and harmonised." Meanwhile, in Germany and the Netherlands, where he lives, paper is indeed collected separately. "This is something that CEFLEX should shout loudly about, that flexibles do not work with just any type of collection and sorting."
It's heartening to know that brand owners such as Mars, who traditionally have not engaged deeply with the fate of their packaging, are now heavily involved in this process. And although there is still a ways yet to travel, if all stakeholders continue to move forward in tandem, a truly circular economy for flexible packaging might just be on the horizon.

Feliks Bezati,
Mars