The third round of negotiations (INC-3) for the UN's Global Plastics Treaty take place in Nairobi, Kenya 13-19 November – another important step forward for the global effort to eliminate plastic pollution.
For CEFLEX, discussing and engaging a vision for circular materials with the entire value chain, the treaty is a significant opportunity to globally harmonise approaches and accelerate the circularity in the plastics sector, including flexible plastic packaging.
The treaty has huge potential to boost adoption of packaging designed for recycling, robust EPR systems enabled to make circular plastics also sustainable and trigger the necessary transformation in collection, sorting and recycling systems.
Alongside collective action in reduce, reuse and innovation through design, these systems are a bedrock of reducing plastic pollution and boosting a circular economy for materials.
Project Coordinator, Graham Houlder outlined his thoughts ahead of a European Commission consultation speech from CEFLEX in October 2023. "In our view, the Plastics Treaty must work for flexible packaging; a vital format for feeding and the health of all societies – and especially those outside Europe. It will help to create the level playing field, systems and incentives that will boost the circular economy for all packaging materials and significantly reduce plastic pollution".
Intergovernmental Negotiating Committees (INC), CEFLEX insights on what it takes to make a circular economy
In all its interactions with decision-makers, CEFLEX aims to bring technical expertise, knowledge and data to assist policy development. Our full value chain perspective and collaborative approach, combined with a defining insight on flexible packaging has already shaped our input to numerous exchanges during the first two rounds (INC 1 & 2) of the treaty development.
CEFLEX's ambition is to advise on how collection, sorting and recycling systems could be put in place, supported alignment and data-driven research.
Although our mandate is to make flexible packaging circular in Europe, we believe that our model can be adapted and applied in a global setting. In addition, many of the companies collaborating in CEFLEX operate at a global scale.
"On top of the many one-to-one and delegation inputs, we issued clear recommendations and mobilised global experts to give input to INC-2 in Paris, May-June 2023; and have explored the principals of a successful treaty within the CEFLEX Global Treaty Advisor Group" explains Houlder.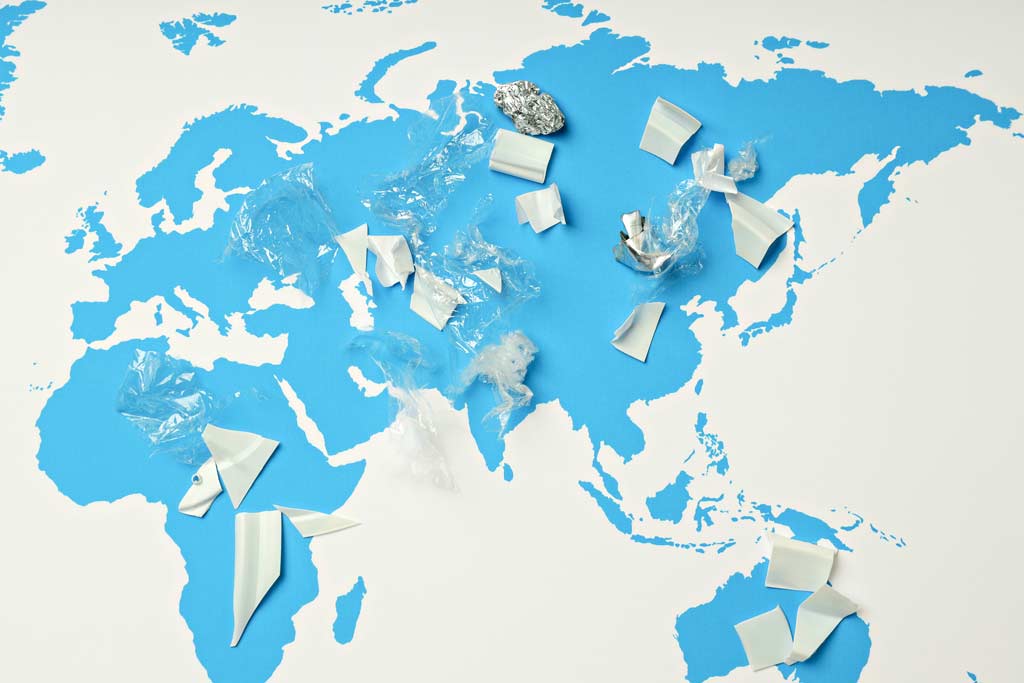 On key topics of packaging design and EPR
CEFLEX has elaborated 'Criteria for Circularity' for Extended Producer Responsibility and simple steps to optimise the system for 'hard to recycle' plastic packaging in Europe and engaged with waste pickers and actors in the global south
In terms of 'Design for Recycling', the CEFLEX flexible packaging guidelines (D4ACE) are leading the way for this format and realising its' full potential in a circular economy
The treaty can help shape and accelerate one set of common rules for businesses to redesign plastic products and packaging. The criteria need to be globally harmonised to create economies of scale and facilitate cross border trade. The rules defined in the final treaty should allow adjustment for local contexts and
Partnerships and alliances driving things forward
As an organisation representing the value-chain of flexible plastics, and together with several major individual stakeholders, CEFLEX have joined forces to support the Business Coalition for a Plastics Treaty, convened by the Ellen MacArthur Foundation and WWF.
The Business Coalition for a Global Plastics Treaty brings together +160 businesses committed to supporting the development of an ambitious, effective and legally binding UN treaty to end plastic pollution. Its objective is to develop ambitious policy recommendations, engage with treaty negotiators, and build confidence that the global business community actively supports the benefits and necessity of an effective treaty that sets common goals, rules, and obligations to be implemented across all national jurisdictions.
The business coalition website and social media channels (LinkedIn) host regular webinars, documents and positions. This includes more expansive positions on several elements, including Chemicals and polymers of concern and reduce and refill. provides a solid basis to continue the negotiations towards a legally binding Global Plastics Treaty.
CEFLEX also engages with the 'High Ambition Coalition' to end plastic pollution  and will re-convene with them as the focus on process switches to a focus on content following discussions in Nairobi.
The 'Zero Draft', INC-3 and road ahead
A 'zero draft' version of the text for a global plastics treaty was published in early September 2023 by the chair of the Intergovernmental Negotiating Committee on Plastic Pollution.
This is the document that delegates will work from during the third set of negotiations and for the immediate future. The goal is to have a formal treaty in place by the end of 2024.
Nothing is final about the text — but it reflects all the provisions that could ultimately make it into the final treaty – and provides a solid basis to continue the negotiations towards a legally binding Global Plastics Treaty.
CEFLEX welcomes the comprehensive scope of the Zero Draft covering the entire life cycle of plastics and plastic products, calling for:
Negotiators to approve the scope of the Zero Draft and recognise the need to opt for a mandatory, harmonised approach particularly on design for circularity and waste management
Agreement that definitions and general principles need to be already defined and included in the treaty. INC3 shall kick-off the process to create a common understanding e.g., on EPR minimum criteria
The meeting to conclude with a concrete plan for the intersessional work towards INC4